5 Best Bottles For Breastfed Babies
---
As a mother, you always want to give your baby the best of everything. You know how to nurture your baby, you know what makes him smile, and you know which foods they like the best. Mommy truly does know best!
When it comes to feeding your baby before they're ready for solids, the best natural option (of course) is breast milk. Breast milk is simply the healthiest solution for feeding your baby.
While it's true that breastfeeding can seem a bit inconvenient in our busy society at times, there's no need to ever settle for formula. So, for those times when you're out and about, give your baby some bottled breast milk. But before you start filling up your bottles, it's crucial that you get the best bottles for your baby's needs. What will they like? What won't leach chemicals? What's durable?
Remember, as a mother, you always want to give your babies the best. So, in a little while, we'll take a look at 5 of the best bottles on the market today.
Why Get A Bottle?
Breastfeeding your baby is the best way to go, but with most good things, there can always be roadblocks. As we all know, it can be somewhat challenging when it comes to breastfeeding in public. Whether you are on a plane, at the grocery store, or at a party, we all know that breastfeeding can be a little difficult at times. Regardless of the difficulty, we need to make time for breastfeeding because there's nothing quite like it when it comes to comforting our beautiful little babies.
But, when you're not able to breastfeed in public, expressing milk is super helpful. Pumped and bottled breast milk can be an excellently convenient solution when you're in line at the grocery store, and your baby is crying for milk. Baby bottle to the rescue! Feeding your hungry baby is as simple as reaching into your purse and pulling out the bottle.
So, why get a bottle? Because it's a no-brainer solution to keeping your baby happy and healthy. There's simply no need for them to feel hungry, even in the store. Not when you've got a bottle.
3 Other Benefits of Using a Baby Bottle
The list could go on and on for why baby bottles are such great little inventions. Besides convenience, they just make feeding your baby a whole lot easier. Let's take a look at 3 other important reasons to use bottles.
1.) Baby Bonding Time With Other Members of the Family
It's always important for your loved ones to have "snuggle" time with the new addition to your growing family. It's also really special for your spouse and other children to have that time together to bond. The whole family can experience the joy of feeding your baby by using a bottle. It's especially good for daddies to bond with their newborns by snuggling and feeding their new, precious little ones as well.
2.) Your Husband Can Alternate Feeding the Baby at Night So You Can That Extra Rest
Sometimes, getting enough sleep can be a challenge when you breastfeed. Especially in the beginning months when your baby needs to eat all the time! By expressing some breastmilk into a bottle, you can take turns with your spouse throughout the night to ensure you can get the extra sleep you need.
3.) Babies Still Need to Eat During Emergencies
It's also a good idea to have bottles on hand in case of an emergency. You can stock up on breast milk and freeze it for whenever you may possibly need it. You can even begin freezing and storing small amounts of breast milk each time you pump to get a good inventory going. If you freeze the breastmilk, it can last in the freezer for up to 12 months. 
So, in the case of an emergency, you or your baby's caregiver will always have an abundant supply of breast milk. Unfortunately, emergencies do happen, and you sometimes may need to leave your baby with a loved one for a while. Even though you may only need to leave for a short time, they can still benefit from your milk.
Transferring from the Breast to the Bottle
Before you give your baby his or her first bottle, be sure that your milk supply is well established and breastfeeding is going smoothly. A bottle nipple is different than the breast, so it is important to know your baby has a good latch and is nursing comfortably. The bottle nipple will require a different suction movement for your baby's mouth, so it may even take time for your baby to get used to the difference. Bottle feeding is not always easier in the beginning.
Sometimes your baby will not like the bottle, I know this from experience. I had to switch out different bottles until my baby was comfortable with the right one. If your baby doesn't like any particular bottle, it will be all the less likely they'll eat enough. This is one of the reasons why it's important to make sure you have the perfect bottle for your baby. Check out the below list of 5 of the best baby bottles available on the market today.
1. Dr. Browns Natural Flow Bottles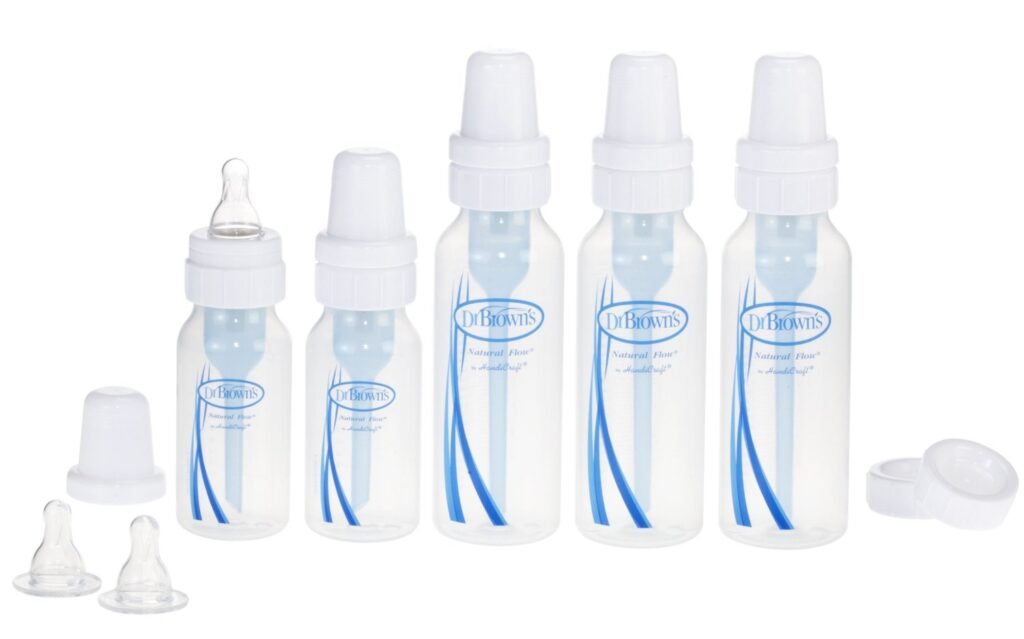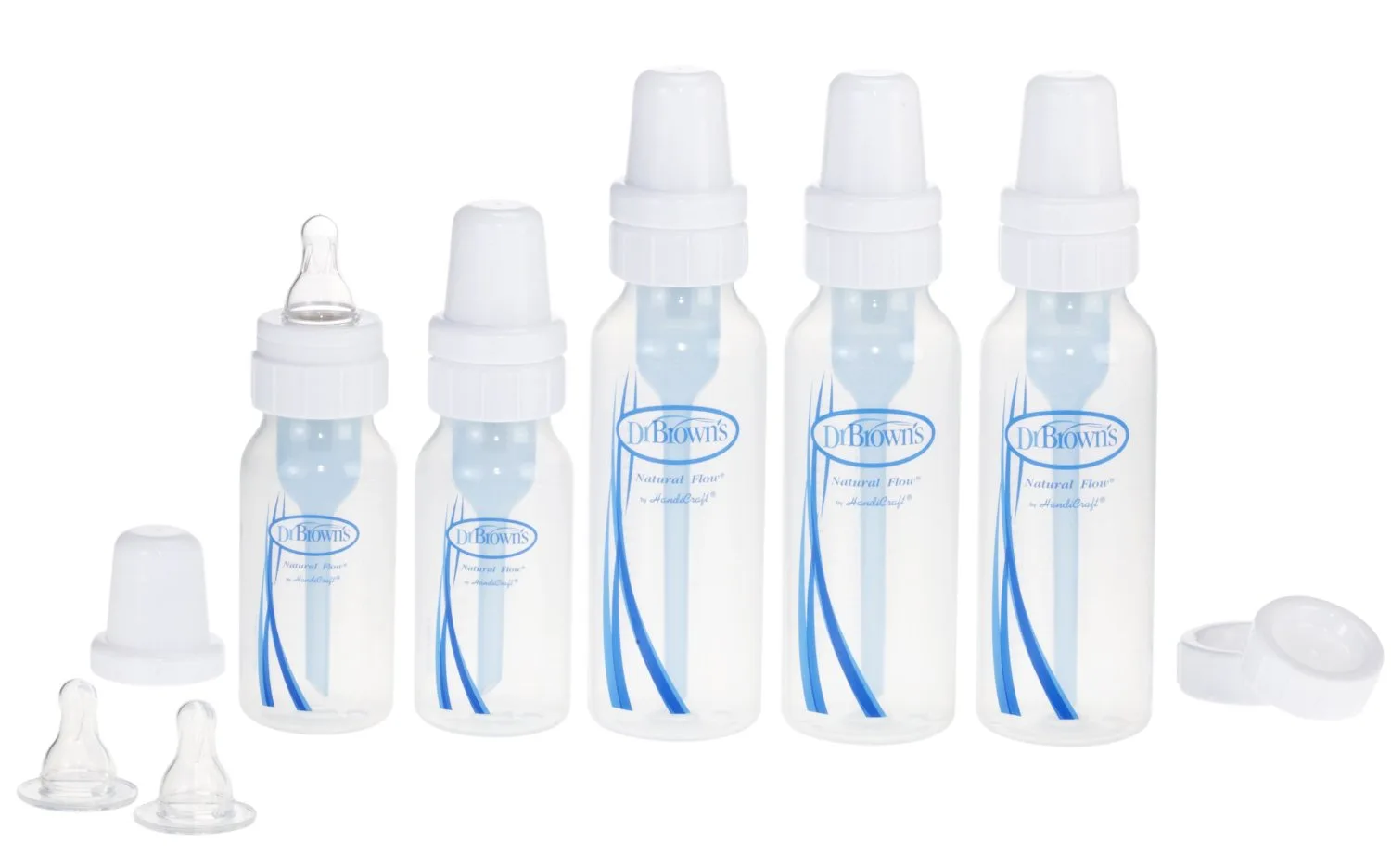 Dr. Brown's Natural Flow bottles are easily one of the most popular bottles on the market today. Rated top seller on Amazon's Baby Bottle List, Dr. Brown's Natural Flow Bottles will prove themselves over and over again. Because of its innovative vent technology, Dr. Brown's Natural Flow bottles provide a wonderful feeding experience for your baby.
You may be asking yourself, "What is this innovative vent technology"? Excellent question. This built-in vent prevents your baby from ingesting the air bubbles that arise as your baby drinks down the milk.  As your baby feeds, the air is converted from the nipple collar to the vent system. From the vent, the air then travels to the rear of the bottle.
This process prevents air from ever getting into your baby's milk. In turn, this fantastic vent technology can help prevent feeding problems such as colic, spit-ups, burping, and gas. And we all know that an air-free baby is a happy baby! The effectiveness of this innovative vent technology is one of the reasons this bottle made it onto our list.
Pros
Innovative Vent Technology
Helps Prevent Colic, Spit-Ups, Gas, and Burping
1# Best Seller on Amazon's Baby Bottle List
BPA, Phthalate, Latex, PVC, and Nitrosamine Free
Dishwasher Safe
Compatible With the Medela Breast Pump
Cons
Plastic Bottle
Some Parts are Potentially Difficult to Clean
This is an all-around great bottle. If you plan on expressing milk often and bottle-feeding your baby, this bottle is the one for you. Nobody wants their baby to have an upset tummy. So, do what you can to prevent that and give this bottle a try.
Knowing that you're doing your best to help prevent your baby from having colic, gas, and spit-ups will provide you with great peace of mind. You want feeding time for your babies to be comfortable and trouble-free. This bottle will ensure that kind of ease and simplicity.
2. Pura Kiki Stainless Steel Infant Bottles

A stainless steel baby bottle? How cool is that! Not only is it cool and stylish, but it's a great way to limit your baby's exposure to plastics if that's a concern for you. This is an absolutely awesome baby bottle. Better yet, it features any number of exciting colors too. This bottle is 100% plastic-free and is very durable since it's made of 100% stainless steel. It really doesn't get much more durable than that!
Even though plastic baby bottles are BPA-free, there is some debate on whether or not plastic baby bottles are the healthiest option. So, it's recommended to try out alternatives to plastic if possible. Unlike glass baby bottles, the Pura Kiki is very lightweight, easy to carry around, and won't break. That makes this the perfect baby bottle to have with you when you're on the go.
Whether you are hiking with your baby on a trail or taking a stroll down the street, the Pure Kiki Stainless Steel Baby Bottle is the safe and perfect choice for any outdoor activity because of its durability. This is probably my personal favorite due to its plastic-free construction and unbreakable durability.
Pros
100% Plastic-free
100% Stainless Steel Bottle and Collar
Adaptable Sippy Cup Spout
Easy to Sterilize and Wash
6 Different Stylish Color Options
Cons
Not Dishwasher Safe
Some Customers Noted Chipping Paint (Choose the Plain Stainless Steel Type to Avoid This)
More Expensive Than Cheaper Plastic Alternatives
Not only will you feel good about a 100% plastic-free bottle, but the Pura Kiki is a very stylish bottle as well. You can choose from up to 6 different colors, all of which are bright and vibrant. Another promising feature is that you can purchase the adaptable sippy cup lid for continued use as your children grow older. The Pura Kiki is an exceptional bottle that you will absolutely love.
3. Lifefactory BPA-Free Glass Baby Bottles

The Lifefactory bottle is ideal for many great reasons, but the number one reason is that it is glass. This Bottle is a great healthy alternative to plastic baby bottles. So, if you want to try out a non-plastic alternative, Lifefactory's glass bottles have proven to be exceptional for a lot of people.
These bottles also come with a protective silicone sleeve. The medical-grade silicone sleeve provides a non-slip grip and can help to protect against breaking. I've dropped bottles like these on the floor before. To my surprise, they didn't break and shatter all over the floor. Plus, you can change the sleeve if you want to change the color!
Pros
Healthy Plastic Alternative
Protective Non-Slip Grip Sleeve
Changeable Color Option
3 Different Nipple Options
Compatible With the Lifefactory Sippy Cup Lid
Compatible with Most Breast Pumps
Dishwasher Safe
Cons
Breakable
Heavier Than Plastic Bottles
More Expensive Than Cheaper Plastic Alternatives
I have used Lifefactory bottles for my kids and have absolutely loved them. It's always reassuring there is a healthy alternative option to plastics. So, give it a try and you'll be surprised by a really great baby bottle.
4. Medela Breastmilk Bottles
The Medela bottle is a great bottle to own because it connects directly to the Medela breast pump. This bottle also comes with storage lids that go right on top of the bottle when you have breastmilk ready to store.
It's nice to be able to express the milk directly into the bottle and have the choice of storing it in the refrigerator or immediately feeding the milk to your little one. They also have measurements on their bottles so that you can know exactly how much your baby is feeding.
The Medela bottle is also great to travel with. Not only does it have the storage lids, but it comes with a travel cap that keeps the nipple clean as well.
Pros
Connects to Any Medela Breast Pump
Comes With Storage Lids
BPA-Free Construction
Dishwasher Safe
Includes Travel Caps
Cons
Plastic Bottle
No Anti-Colic Features
This bottle is a good option, especially if you already have the Medela breast pump.  It simply screws on and off the breast pump, ensuring the ease of storing breastmilk in the same bottle. The only thing that this bottle has against it is that it is plastic and doesn't contain any specific anti-colic/anti-air features. Otherwise, this is a basic baby bottle that's a great option to have with you whether you are at home or on the go.
5. Phillips AVENT Natural Baby Feeding Bottles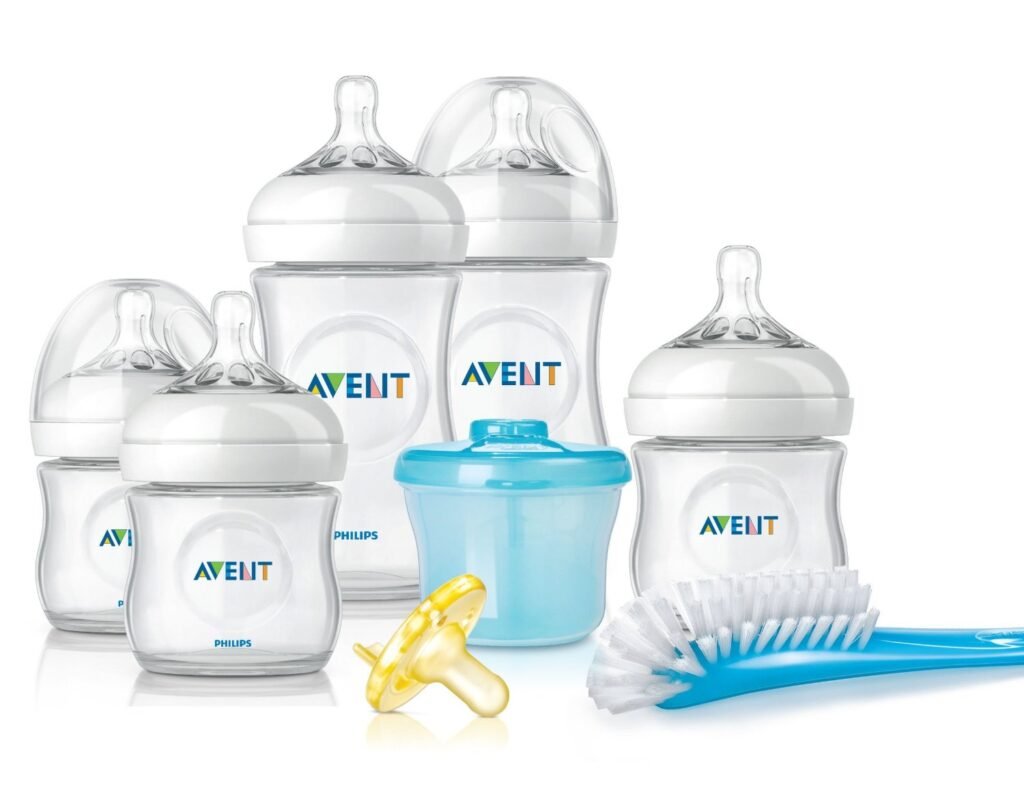 The Phillips AVENT bottle is on this list because of its natural breast-shaped nipple. I received this bottle as a gift for my first baby and was very pleased with the results. The bottle itself is easy to clean and comfortable to hold. It also is reasonably priced, and you can get them individually or in large sets.
Pros
Wide Breast-Shaped Nipple for Latch-On Ease
6 Different Flow Style Nipples to Accommodate Your Growing Baby
BPA-Free
Comfortable, Easy Grip for Mommy and Baby
Affordably Priced
Dishwasher Safe
Nipple Lid
Cons
Plastic Bottle (They Also Make a Glass Alternative)
Complaints of Leaking Bottles
Due to its breast-shaped nipple, this is a great bottle to start using with your baby before trying others. It may be easier to transition your baby from the breast to this bottle because of its natural shape. Phillips AVENT also makes a glass bottle that is compatible with the Natural Feeding nipples. So, if you don't want a plastic bottle but still like the naturally shaped nipples, get the glass bottles they make instead.
Which Option Is Perfect for Your Baby?
It's always crucial to know what your baby's needs are so that you're able to keep them comfortable and happy. A happy baby is a happy mommy! One of the 5 bottles we mentioned will be sure to keep you and your baby satisfied. Keep in mind that our list wasn't measured from best to worst since we aimed to list bottles that would appeal to a large variety of mothers with varying preferences and needs.
It's also important to know that you can rely on a bottle that perfectly suits his or her individual demands. Babies are very particular, and no two babies are alike. So, explore your options and try out different bottles until you find the one that your baby absolutely loves.
Some babies may prefer the natural nipples the Avent bottles have, but some babies may not like them. Or, perhaps you don't want a plastic or glass bottle? Then the Pura Kiki is an excellent and durable stainless-steel choice for you. Maybe you just want a basic bottle to start with that can be used with the Medela Breast Pump? Then the Medela breastmilk bottles are a good choice for you. Whatever the case, one of these top-rated bottles will meet every need and preference you have for you and your baby.
Conclusion
Figure out which kind of bottle is your baby's favorite. He or she might not be able to thank you in words, but you will know what they are thinking when they're peacefully sleeping with a satisfied tummy.
It's important to feel good about yourself when you know you're giving your baby the perfect option. The importance of purchasing a quality, safe, and comfortable baby bottle is an integral part of your baby's health and quality of life. Do not cut corners, don't go for the cheapest options, and be willing to try various kinds of bottles until you find the perfect option. Give yourself the confidence of knowing that the baby bottle your baby eats from is the very best option for them and their needs.
---
From your friends at Enticingly Simple,
-Cora