Best Flat Iron for Fine Hair: 3 Solid Performers
---
If you have fine hair, you've probably realized that it can sometimes be somewhat troublesome to straighten in in the morning. While fine hair can be difficult to manage, it's definitely not impossible. Turn your shiny, silky hair dream into reality with flat hair irons that specifically do well with fine hair. If you're afraid of damaging your hair because you've never tried a flat-iron before, there's really no need for concern.
Flat irons have been around for a very long time. With the proper use and techniques, flat irons will turn your hair into that straight and silky beauty without any frizz or damaging effects. In order to help you choose the best flat iron for your fine hair, we've chosen three amazing options that you'll absolutely love.
HSI Professional Digital Ceramic Tourmaline Ionic Flat Iron Hair Straightener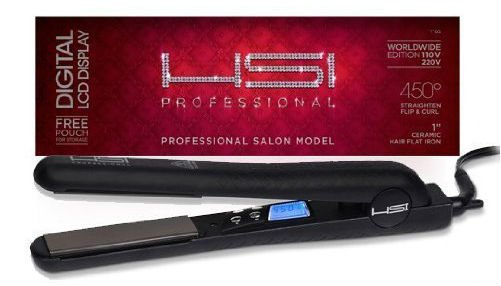 This is an excellent and reasonably priced hair straightener. It features high-quality 1-inch ceramic tourmaline plates. These one-inch solid ceramic tourmaline plates have advanced infrared heating technology that heats each strand of hair from the core and outwards. This model very effectively handles fine and coarse hair types without any difficulty at all. Better yet, this model also features special sensors that ensure heat is evenly dispersed.
Besides being a very high-quality hair straightener, we'd be amiss if we didn't mention that it boasts a digital heat display and comes bundled with three other items. This straightener would be worth it without the extra items, but it's an even better buy with them. This straightener comes with a free heat glove, a 5ml bottle of Argan oil leave-in conditioner, and a fancy heat pouch for storage.
Pros
Crisp and Easy to Read Light-Up Digital Display
Quick Heating
360 Degree Swivel Cord
Ergonomic Design
Easy Grip
High-Quality 100% Solid Ceramic 1-Inch Plates
Fully Adjustable Heat Settings (240F to 450F)
Very portable
Floating Tourmaline Plates
Worldwide Dual Voltage (110v and 220v)
Curved Edges Help to Flip and Curl Hair
The Plates Clamp evenly Without a Gap
Safe 3-Second Power-on Feature*
Cons
With the HSI Professional Digital Ceramic Tourmaline Ionic Flat Iron, you can turn your frizzy, unmanageable fine hair into silky-smooth cover-girl hair. When it comes to convenience, this straightener doesn't disappoint. Like many other products out there, this does feature a swivel cord too. As mentioned earlier, it's impressive that this unit also comes with a convenient pouch and heat glove for the price. The digital display is especially crisp and convenient as well.
BIO IONIC Onepass Straightening Iron (1 or 1.5 Inch)
Less friction, no damage. This is how the BIO Ionic straightener with silicone speed strips performs on even the frizziest hair types. Bio Ionic is a break-through hair straightener and allows the stylist to straighten hair in half the time compared to other traditional irons. It's also said that this particular flat iron is the #1 choice among professionals. It also seals in moisture and nutrients with high levels of negative ions.
Importantly, this model also features BioCeramic 5-second heaters which provide near instant heat-up operation. That means that you'll be able to get salon styled hair in the morning even when you're in a hurry. While this model doesn't feature a digital display, it's power and styling performance is proven. There are a lot of lesser quality straighteners out there featuring digital displays, as well some very good high-quality models too. This straightener would be even better if it had a digital display, but does it really matter if it's effective at getting the job done and styling your hair beautifully?
Pros
9 Foot 360-Degree Swivel Cord
Less friction With Silicon-Coated Ceramic Plates
High Levels of Negative Ions
Infrared Heating Seals in Moisture
Easy to Use Temperature Settings (400F Maximum)
Instant Heat-Up
Ergonomic Design
Easy to Use
Professional Grade
Cons
No Auto-Off Feature
No Digital Display
Pricey
The BIO Ionic hair straightener is impressive and will get the job done. This company likes to show off their technology by creating products that are effective are what they're designed for. There are so many cheap and budget flat iron's on the market that do a terrible job and are completely ineffective. Not only is this straightener effective, but it will also help you save time with the silicon-coated ceramic plates.
While the performance of this model is solid, it could use some improvement. I mean really, how hard would it be to include a digital display? Also, I know this may be a salon styling tool, but an auto-off feature isn't asking too much either. Either way, though this flat-iron is more pricey than others, it's definitely not overpriced. That being said, if you want a model that features a digital display, try the HSI above instead.
MHD Professional 1 Inch Hair Flat Iron – Negative Ionic Technology Straightening Iron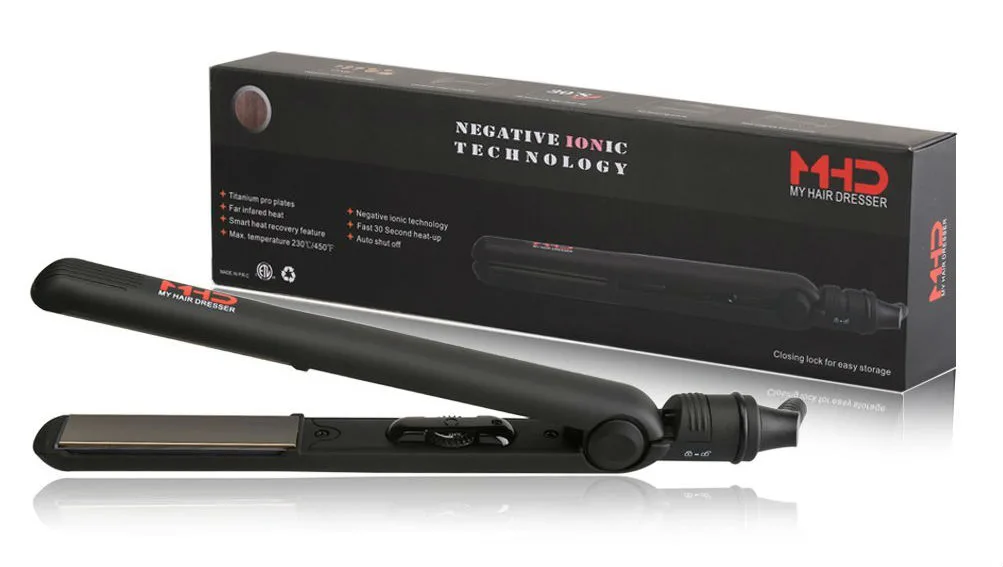 This one-inch straightener with smooth 3D floating plates works best with all hair types and lengths. Unlike some straighteners, this one is easy to use and straightens hair in an instant. It also prevents hair from heat damage because it emits negative ions that seal in the hair's natural moisture and color.
This model features three adjustable settings (248F, 356F, and 446F) and an LED power indicator. So, with these adjustable heat settings, you can use it depending on your hair's needs and styling preferences. For creating perfect curls and waves, use its contoured edges. Plus, it features an auto shut-off mode when it's not in use for 30 minutes.
Pros
Auto Shut Off
Three Temperature Settings
Easy to Use Handle Lock
360-Degree Rotating Cord
3D Floating Plates
1-Inch Plates
One Year Replacement
Two-Year Warranty
Great for Fine Hair
Cons
Some Purchasers Noted Potential Inaccuracies in the Product Descriptions
No Digital Display
The MHD Professional Titanium Floating Plate Hair Flat Iron is a smart buy for giving your hair a salon look and feel without paying an arm and a leg. It's easy to use because of its 360-degree swivel c1-inchd 1-inch plates that are even narrow enough to straighten your bangs. For curly hair, you'll find the contoured edges quite useful. What's even more awesome is that this model comes with a 1-year replacement warranty and 2-year repair warranty.
Quick Recap
If you were looking for hair straighteners and irons that would effectively style your fine hair, you now have three solid options to choose from. All of the above-mentioned flat irons are easy to use because each of them features a 360-degree swivel power cord. Actually, any flat iron that doesn't feature a swivel cord is behind the times. Each one of these straighteners is extremely easy to use and each one also has different features that should meet anyone's individual preferences.
If you have children that you think may try to power on one of your styling tools, the HSI is an excellent option because it has a 3-second power-on feature. Some people might like a feature like that while others may hate it. The BIO Ionic is a very well-performing straightener that's a bit more pricey than the other two, but it doesn't even have a digital display at that price. Then again, some of you may not want or need a digital display. The MHD is the least expensive of all three straighteners and could even be considered a "budget" flat-iron, but it will do the job.
So again, it just depends on your preferences. The HSI is probably the best buy out of all three options with its reliable performance and free accessories, the BIO Ionic will efficiently get the job done quickly every single time, and the MHD is a budget option that will get the job done without any extra features.
There's no need to struggle with fine and frizzy hair any longer, you just need the right tools. In this case, the right tools will absolutely make your life easier and your styling time more enjoyable.
---
Have you tried any of the flat-irons or straighteners we've mentioned? Tell us about your experiences. We'd love to hear from you. Comment below.
Enticingly Simple-