Best Blow Dryer for Natural Hair
---
It may very well be said that the blow dryer is one of the most important hair essentials for any women. Day in and day out, we use it to dry our preciously beautiful hair. After it's reached what we'd consider "peak" dryness, we then move on to styling with all manner of brushes and combs. We take for granted just how much more difficult getting prettied up would be without such a handy little invention!
The wonderful devices they are, blow dryers really are quite simple in function. We pretty much already know their function though right? Aren't they basically just electrically-powered devices that cause moving air to pass through a hot coil, that in turn evaporates water from the hair? Well yea, that's basically their function. But, as you already know, no two blow dryers are alike!
Lots of Options to Choose From
There are many varieties of blow dryers for different types of hair. Some of them may even more easily damage your hair if they're lacking in quality. So, make sure to choose a good quality blow dryer from the beginning (and use it properly).
If you find that it takes an incredibly long time to dry your hair, that's probably because the wattage of your current blow dryer is too low, meaning that it really isn't all that powerful. Hair stylists recommend choosing a blow dryer that is at least 1800 watts.
Without listing each and every single feature available in blow dryers today, I will list a few of the areas where you will see great diversity from one model to the next.
Key Blow Dryer Features
When it comes to what kinds of options and add-ons are available, the list is almost endless. There are a number of specifications and features you should keep mind when shopping for a blow dryer.
When shopping, ask yourself a few questions:
– What features are lacking with your current blow dryer?
– What don't you like about your blow dryer?
– Do you want extra attachments?
When buying a blow dryer, pay attention to the details before you spend your money because you don't want to buy a piece of junk!
A Few Key Areas of Comparison:
Wattage
Attachments
Ease of Use
Speed Settings
Heat Settings
Heat Protection Features
Construction Quality (materials, safety, etc.)
* As you consider your options, be sure to take notice of what each model has to offer as relates to the above features and specifications.
Amazing Blow Dryers for Natural Hair
The blow dryers in our list below are all top-notch. Not only do they have raving reviews, but the first option is the most popular blow dryer on Amazon. Depending on your preferences, at least one of these blow dryers below will definitely meet and exceed the needs of your beautifully natural hair.
Down the road, we also plan to make a blow dryer buying guide that will go into greater detail regarding more expensive blow dryers as well. But, the models on our list below will give you Professional results at an affordable price.
1.) Xtava Allure Professional Ionic Ceramic Hair Dryer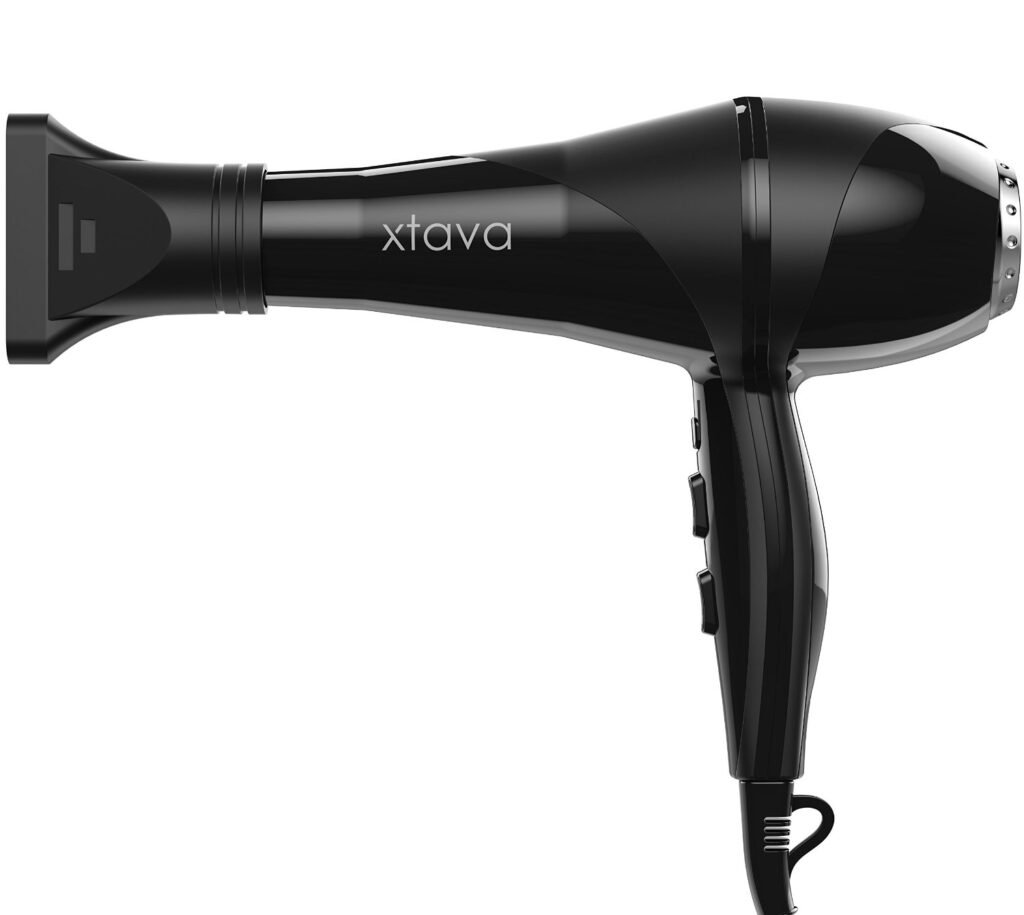 Out with the old and in with the new! You will style with ease using this 2200 watt lightweight Xtava Allure Professional Ionic Ceramic Hair Dryer. Its sleek and stylish design includes a concentrator nozzle that helps you concentrate the air on the area you're targeting while adding precision and focus for frizz control. With this more targeting approach at styling, you'll see better overall results.
What makes this model special is its tourmaline ionic ceramic technology that helps dry hair up to 80% faster, without over-drying, while at the same time adding volume. This technology helps break up water quickly, therefore reducing your overall time blow drying. Not only that, but while it dries your hair it also emits powerful negative ions that seal the outer layer of the hair to protect it from frizz and increase shine. Your hair will surely look good and hydrated after blowing it dry with this hair dryer. It features two speeds and three heat settings for more versatility and control.
Pros
Lightweight
Sleek and stylish design
Tourmaline ionic ceramic technology
Emits negative ions
Two speed settings
Three heat settings
Includes concentrator nozzle
Dries hair faster
2200 watt professional motor
Cold shot button
Quiet motor
Cons
The Xtava Allure Professional Ionic Ceramic Hair Dryer ensures the high quality and cruelty-free professional hair drying that every woman deserves. Purchase one for yourself and treat your hair to a salon-like result without spending a fortune, and without damaging your hair!
2.) Rusk W8less Professional Lightweight Ceramic Tourmaline Hair Dryer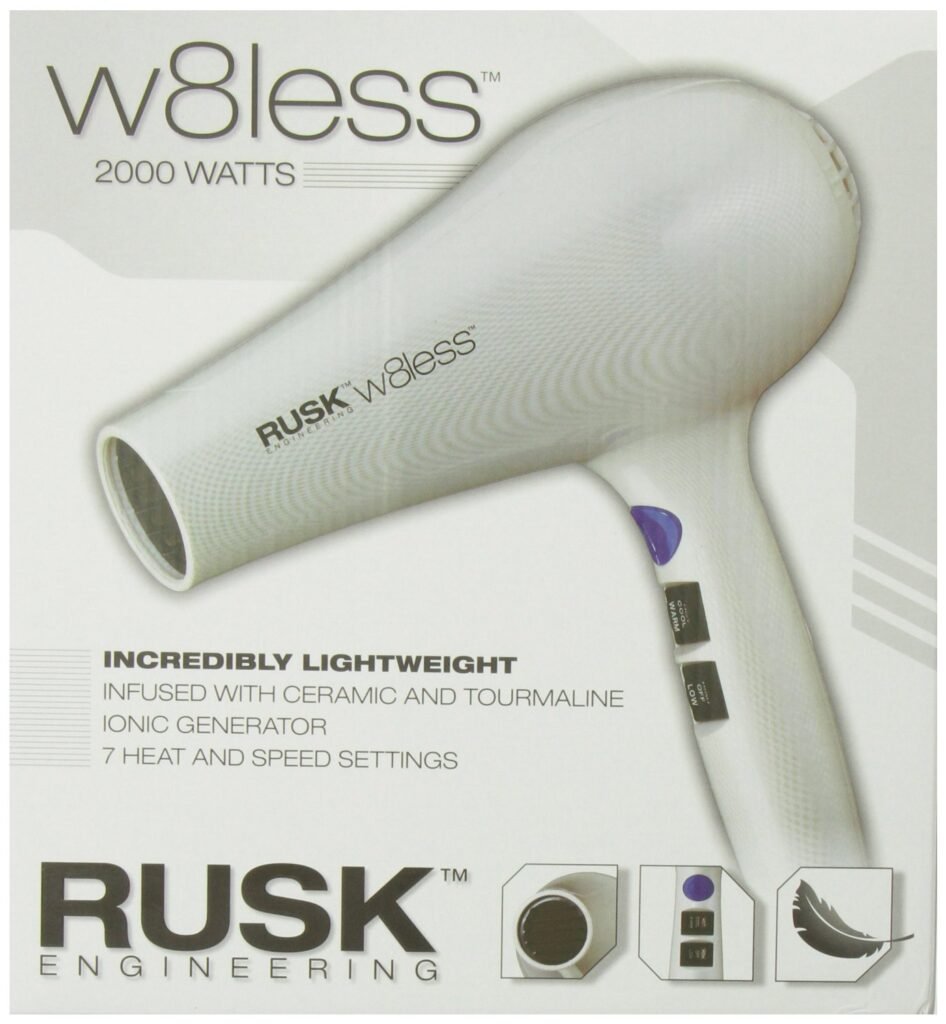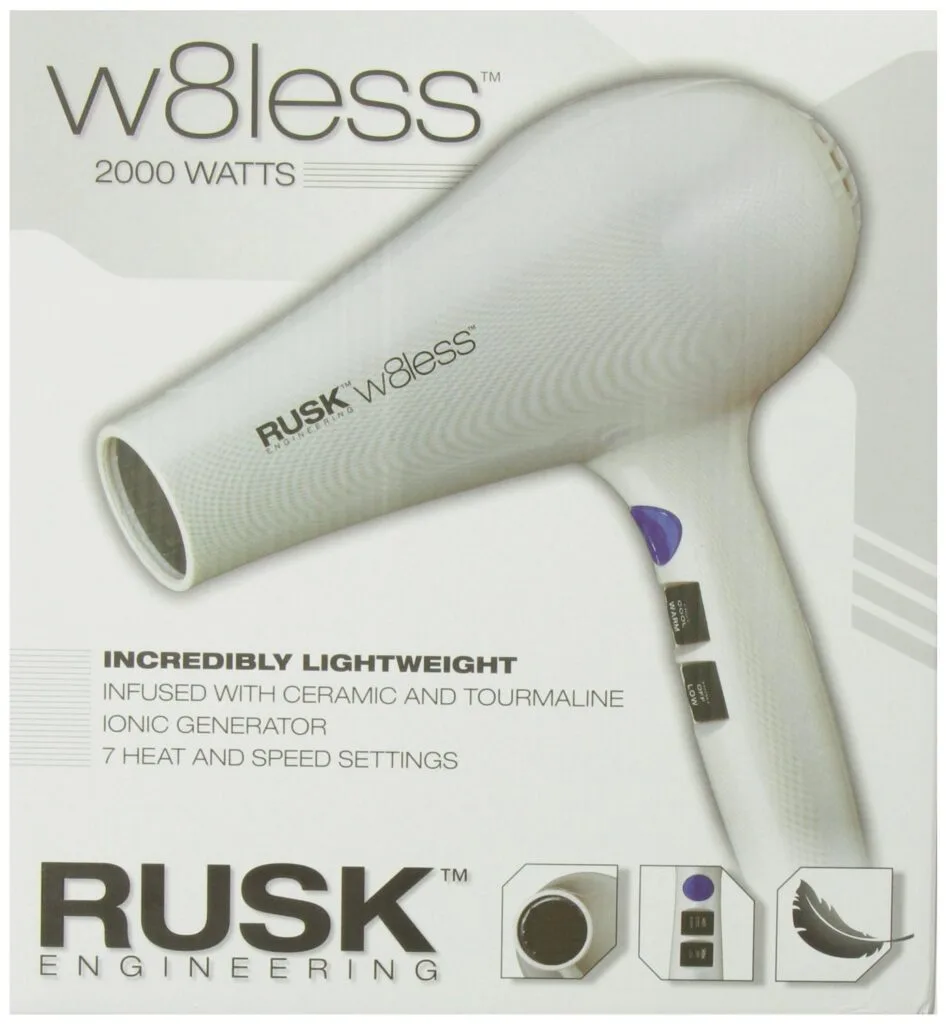 After washing your hair, drying it with the Rusk W8less Professional Lightweight Ceramic Tourmaline Hair Dryer gives your hair more volume and shine without the unwanted frizz.
It packs a 2000 watt motor with an ion generator that protects the outer layer of your hair, making it shinier and better protected. This hair dryer dries hair quickly because of its ceramic grill infused with tourmaline. It also has seven heat and speed settings with a cold shot feature for added versatility.
If you've ever had issues with a cord being too short before, you won't have that issue with the Rusk because its cord measures up to 8 feet. Plus, its concentrator nozzle will help you focus the hot air on one area, drying it quickly and gently while still maintaining precision control.
Pros
2000 watt motor
Lightweight
Ion generator
Ceramic grill with tourmaline
8 feet power cord
7 speed and heat settings
Concentrator nozzle
Cold shot
Quiet
Cons
The cord is too long if you don't need all 8 feet (bulky storage)
No diffuser
The Rusk W8less Professional Lightweight Ceramic Tourmaline Hair Dryer is a smart buy if you need a good blow dryer. It has everything you need. The negative ions seal in nutrients and prevent hair frizz, the concentrator nozzle helps you work on one section at a time, and a ceramic grill with tourmaline helps to dry hair faster. It's also lightweight and can be moved in any direction because the cord has an 8-foot length.
3.) Chromatique Professional E3 5200 Tourmaline Ionic Ceramic Salon Hair Dryer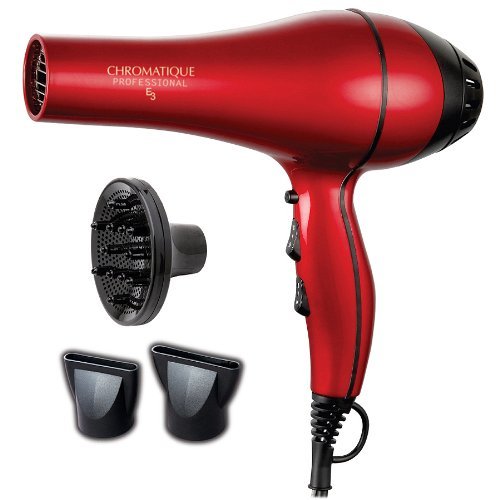 Dry and style your hair with this convenient and sleek metallic red blow dryer! It's modern and professional look might catch your attention, but this hair dryer boasts more than just sleek looks. This Chromatique Salon Hair Dryer has unique features you will love. It also uses nano technology that brings out your hair's natural shine, resulting in frizz-free and healthier hair.
The ceramic tourmaline ionic technology makes for a faster dry time while protecting hair from damage as well. It's also built with a long-lasting quality motor with two speed settings, as well as three heat settings (cool shot too). With the proper amount of heat and faster application, your hair will have very good results with this blow dryer!
Pros
Ergonomic design
Comes with a diffuser!
Heavy duty cord with hang-up hook
Three heat settings
Two speed settings
Two concentrator attachments
Cool shot
Ion generator
Ceramic grill with tourmaline
Cons
Some say it's a bit heavy
This blow dryer will keep your hair looking beautiful. It comes with a sleek metallic red finish and ergonomic design for easier use and control. It will effectively style your hair with proper use. You will not be disappointed with its unique features, especially the nano tourmaline ionic ceramic technology and extra diffuser attachment. It even has two concentrator attachments! Some people do say it's a bit on the heavy side, but that's because of the quality motor.
Wrap-Up
All of these blow dryers work great for natural hair because they all use technology that works to produce dry hair without damaging results. They all have the concentrator nozzles to help you focus on one area at a time and use technologies that make for faster and gentler drying times. The tourmaline will allow for faster dry times while preventing your hair from damage caused by heat. At the same time, negative ions will seal in moisture and nutrients to protect the outer layer of hair.
The things that differ between all three of the above options are the cord lengths, speed and heat settings options, and overall design. Also, the Chromatique does include a diffuser attachment, but attachments can be purchased with the Xtava and Rusk as well. Whichever blow dryer you choose out of these 3, you will be satisfied!
---
Questions or comments? We'd love to hear from you!
Enticingly Simple-