Grandma Dot's Zucchini Bread
---
As the winter months roll in, so do our cravings for warm and sweet comfort foods. If you're looking for a delicious recipe to appease your sweet tooth, this particular recipe will interest you. The following zucchini bread recipe is not only very delicious, but it is also extremely simple to make as well.
If you're like me and have never really been a fan of zucchini bread (or zucchini in general), I would encourage you to give this recipe a try. Unlike a lot of zucchini bread recipes that happen to be somewhat bland and dry, this one is packed with flavor and is delightfully moist. This zucchini bread has the perfect balance of flavorful spices, good texture, and practically melts in your mouth while eating it. It's no wonder this yummy recipe has been passed down for 3 generations, it just that good!
Grandma's Recipe: A "Sweet" Story
Over the years, my husband's grandma always has had many specialties to share. But, one, in particular, was her zucchini bread. My husband would always go on and on about how wonderful it was and that there was no other zucchini bread comparable to hers.
When my husband was a very small child, one of his fondest memories of his grandma was baking sweet treats with her in the kitchen. So, as soon as the autumn season arrived, lots of baking would inevitably begin. He says that one of his most memorable parts of making zucchini bread with her (except for eating it!) was watching it slowly rise in his her old 50's oven. Though those memories and days have passed, he's brought back in time whenever we continue the tradition in our family.
Before I tried her "famous zucchini bread", I was always somewhat skeptical about the recipe. From my experience, the zucchini bread I had in times past was always dry and tasteless. But, my husband reassured me that once I tried it, it would be a timeless favorite. Guess what? He was absolutely right!
It wasn't until we took a trip to go visit Grandma Dot that my husband asked her for her recipe. Since she wasn't one to keep recipes "secret" and would've been glad to share her recipes with anyone who asked, she was thrilled to share it with me. So, she pulled out a treasure trove of recipes. After some time of looking through her recipe collection, she finally pulled out the famed zucchini bread recipe and graciously let me copy it down.
Then, shortly after we returned home from visiting her, my husband had a modest request. He wanted me to make her famed zucchini bread. No surprise, right? As I followed the recipe step by step, I found that it was surprisingly easy. I don't know why, but zucchini bread just never interested me before, and I have a very long history of baking (I worked full time in a farm country store/bakery). It was indeed the best zucchini bread I had ever eaten. If I remember correctly, my husband and I ate the entire loaf in one night! It really was that good.
I have been baking it ever since and it has now become a family favorite. We even sent some through the mail to grandma since she's no longer able to practice her passion for cooking. Being the great cook she was, even she thought it was excellent.
Our children just love this recipe and it's yet another way to get them interested in cooking. Now, it's our kids who stare through the glass of the oven watching mommy and daddy's creation take form.
I will forever love this recipe because of the way it tastes, of course. But, it's also special because of all the childhood memories my husband has had in times past and all the future memories our family will have in times to come. Our family loves traditions, not because we feel some strange begrudging obligation to keep them, but because we really enjoy the memories they create.
In our family, time together is special and of utmost importance, because we really do love one another that much. Now it's my turn to share this recipe with you, so that if you please, you can make this part of your family tradition as you create your own special memories with the ones you love.
Here's the Recipe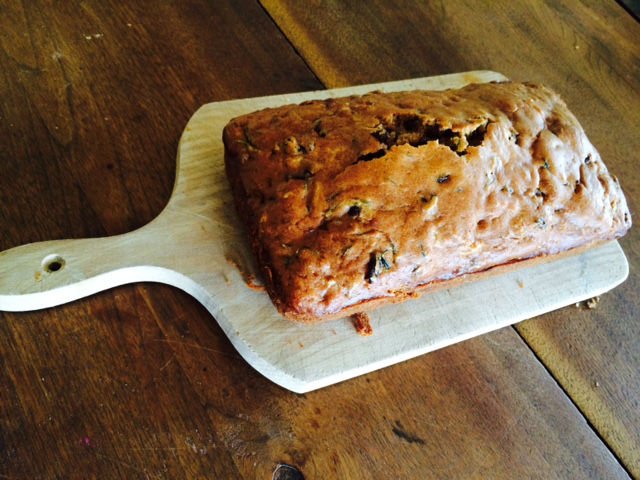 Ingredients:
3 Cups of All Purpose Flour
2 Cups of Sugar (We Use 1 Cup, Honey Sometimes Too)
1 Teaspoon of Salt
1 Teaspoon of Baking Soda
1/4 Teaspoon of Baking Powder
3 Teaspoons of Cinnamon
2 Cups of Grated Zucchini
1 Cup of Chopped Walnuts (optional)
1 Cup of Raisins
3 Eggs
3 Teaspoons of Vanilla
1 Cup of Oil (Any of Your Choice: Butter, Lard, Coconut oil, etc.)
Preparation Instructions:
Step 1 – Before you get started, Preheat your oven to 350° F
Step 2 – Grease 2 bread pans with coconut oil or butter. Also, you can use 2 lined cupcake trays with foil or paper liners if that's your preference.
Step 3 – Get a grater out and begin to grate your zucchinis on the medium-sized side (the same side you'd grate cheese with). Depending on the size of your zucchinis you may need 3-4. However, you can use 2 larger zucchinis just as long as you get 2 cups worth. The larger zucchinis tend to taste a bit more tart which is great for this recipe.
Step 4 – After you've finished grating your zucchini, get out a large mixing bowl. Combine and mix all ingredients: Flour, sugar, salt, baking soda, baking powder, cinnamon, chopped walnuts (if using), raisins, and grated zucchini. Mix together until well combined. Note: We now use whole-wheat flour because we actually think it tastes even better than regular flower. Also, we usually don't add the walnuts since my husband isn't a huge fan of them. Grandma said she didn't usually add them either, but she didn't on occasion depending on who she was making it for.
Step 5 – In a medium size mixing bowl whisk together the eggs, vanilla, and oil. One important note: You can use canola oil in this recipe; however, I prefer to use coconut oil or butter. Not only is coconut oil healthier, but it also makes it a lot moister. If I don't use butter, I will usually at least brush it on after baking.
Step 6 – Pour the egg mixture into the flour mixture and mix until very well combined. Make sure there are no lumps and that your batter is very well mixed. After all, you don't want to bite into a clump of baking soda!
Step 7 – Slowly pour the batter into your greased bread/cupcake pans. If you want to decrease mess and spills, you can just scoop your batter out with an ice cream scoop or ladle. Fill the bread pans 3/4 of the way full, or until the batter is evenly dispersed. If you're making zucchini cupcakes, fill each liner 3/4 full. Don't overfill! You don't want zucchini bread all over the bottom of your oven.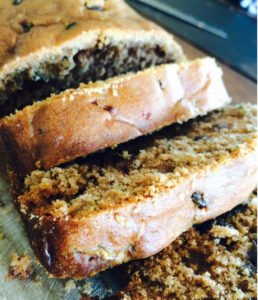 Step 8 – Place your zucchini bread into the oven and bake for 1 hour and 30 minutes. For cupcakes, you'll only need to bake for 30 minutes. If you have a touchy oven prone to cooking unevenly, you may want to check your zucchini bread every 20-30 minutes or so. Since some ovens do cook unevenly, you'll want to rotate your pan if that's the case.
Step 9 – If you're uncertain whether the zucchini bread or cupcakes are thoroughly cooked, stick a toothpick into the center to see if it comes out clean. If it does, you're finished baking. After you get the bread out of the oven, place a clean dish cloth over the top and allow to cool for a few minutes. Note: If you want your zucchini bread to be super moist, tightly wrap aluminum foil over it as soon as you take it out of the oven before allowing it to cool.
Optional – If you want to go all out, you can frost your loaves with cream cheese frosting! This is especially great if you decided to make muffins with your batter.
You can serve your freshly made zucchini bread piping hot or you can allow it to cool completely before eating. Also, it's great for breakfast. It is delicious any way you want it and there isn't one perfect way to eat it because it's perfect for any occasion. In our family, we'll even sometimes make 4-6 loaves (double/triple batch) so that we can freeze the extras to eat later or gift them to friends and family.
A Few Final Words
I hope you will forever enjoy this recipe just as our family has for generations. And if you like it, which I can almost guarantee you will, please don't hesitate to share it with your friends and family as well.
Lastly, I'd like to give special thanks to Grandma Dot. She was always a wonderful cook who loved spending time with her family (especially her grandkids) and was quite a hard worker. She is now almost 98 years old and is as funny and loveable as ever! Thank you, Gramma Dot, for sharing your famous zucchini bread recipe, we love you!
---
If you have any questions about this recipe or would like to share your experiences, please comment below. We absolutely love hearing from our readers!
-Cora